Director John Waters ("Hairspray," "Pink Flamingos") is coming to Chicago one week from today to present "The Wizard of Oz" with me at the Music Box Theatre.
It's the first in the series "The Film That Changed My Life," based on my book of the same name. Waters will introduce the film, then I'll interview him on stage after (spoiler alert!) Dorothy ends up back in Kansas.
Below is a postcard with more details, but full info for the Saturday, June 11, event is here. It starts at 5:30 p.m.
Tickets can be bought here. Hurry, they are almost gone!
Hope to see you there!
Rob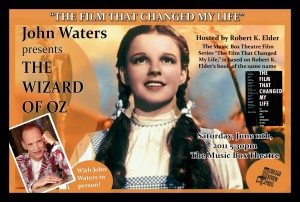 **
"The Film That Changed My Life" Series presents…
THE WIZARD OF OZ featuring John Waters in person!
Hosted by Music Box Theatre and Robert K. Elder
Director John Waters will host a screening of THE WIZARD OF OZ at the Music Box Theatre on June 11 to kick off the new series "The Film That Changed My Life," based on Robert K. Elder's book of the same name. Waters will appear live to introduce the movie and have a post-film discussion with Elder.
Waters says that a single line from THE WIZARD OF OZ —"Who would have thought a good little girl like you could destroy my beautiful wickedness?"—inspired his life. "I sometimes say it to myself before I go to sleep, like a prayer," Waters says in the book.
Waters and Elder will sign copies "The Film That Changed My Life" and Waters' book "Role Models" following the screening and Q & A.
DATE OF EVENT
Saturday, June 11, 5:30
TICKET INFORMATION
$22 in advance (available on-line and at the box office)
$27 day-of
(Assigned seating)
ABOUT JOHN WATERS
John Waters is an American filmmaker, actor, writer, and visual artist best known for his cult films, including Hairspray, Pink Flamingos, and Cecil B. DeMented. He lives in Baltimore, Maryland.
ABOUT "ROLE MODELS"
Here, from the incomparable John Waters, is a paean to the power of subversive inspiration that will delight, amuse, enrich—and happily horrify—readers everywhere.Role Models is, in fact, a self-portrait told through intimate profiles of favorite personalities—some famous, some unknown, some criminal, some surprisingly middle of the road. From Esther Martin, owner of the scariest bar in Baltimore, to the playwright Tennessee Williams; from the atheist leader Madalyn Murray O'Hair to the insane martyr Saint Catherine of Siena; from the English novelist Denton Welch to the timelessly appealing singer Johnny Mathis—these are the extreme figures who helped the author form his own brand of neurotic happiness. Role Models is a personal invitation into one of the most unique, perverse, and hilarious artistic minds of our time.
ABOUT "THE FILM THAT CHANGED MY LIFE"
A veritable who's who of accomplished directors, The Film That Changed My Life: 30 Directors on Their Epiphanies in the Dark (Chicago Review Press, January 2011) includes interviews with everyone from Oscar-winning documentarian Alex Gibney, who expounds on the virtues of the surrealistic film The Exterminating Angel, to Danny Boyle, who raves about the visceral genius (and madness) of Apocalypse Now. A movie guide for seasoned film lovers or those recently drawn to the silver screen, The Film That Changed My Life will inspire a whole new generation of film aficionados. For more info on the book, please visit http://filmchangedmylife.com/.
ABOUT ROBERT K. ELDER
Robert K. Elder is the regional editor for Patch.com in Chicago. His work has appeared in The New York Times, Los Angeles Times, Chicago Tribune, Salon.com and MSNBC.com. He has taught courses in journalism and film at Northwestern University, Columbia College Chicago and Facets Film School, and has published several books including John Woo: Interviews and Last Words of the Executed. Robert lives in Chicago, IL.